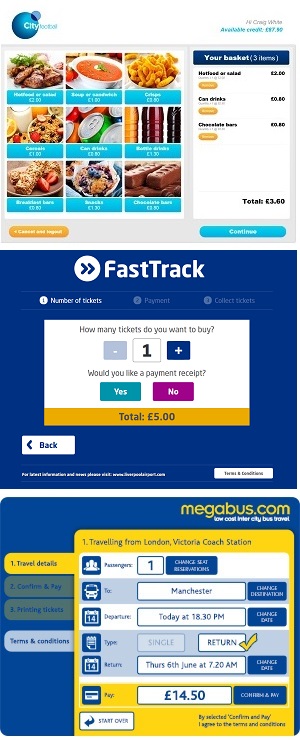 Increase Sales with Self Service Kiosks from Touch4
Self service kiosks play a vital role in improving customer service; becoming more and more commonplace and utilised across many industries. Retail self service kiosks simplify and speed up the ordering process. Self service kiosks in the hospitality industry can welcome guests with an interactive display of your offerings, whilst self service check in and check out kiosks can improve customer service, reduce queues and save money in airports, hotels and hospitals.
Customers' perceptions of self service kiosks are escalating with the speedier service and convenience they offer. The privacy and precision ordering provided by interactive touch screen kiosks ensure the customer gets exactly what they ordered with no potential for embarrassment.
Touch4's self service kiosk software is designed with this in mind, putting your customer and their user experience first. Touch4's self service touch screen systems are fully customisable to your audiences needs and your own by utilising your graphics and brand guidelines.
Self service kiosks provide tangible benefits for your organisation:
Increasing productivity by deploying multiple self service kiosks to simultaneously take multiple orders or book in multiple guests.
Increasing sales by offering cross and up-selling opportunities.
Reduce administration errors and effort, ensuring your customer gets exactly what they need.
Improving customer service by providing an alternative speedy and convenient service.
More Touch Screen Applications from Touch4
Touch4 have several applications available to assist you with:
Self Service Check In/Check Out Kiosk:
From airports and hotels to hospitals, this vital application saves on labour costs; improves customer service and reduces queues.
Ordering Kiosks:
Ordering kiosks offer a quick and easy way to boost your profits through increasing the amount of orders that can be simultaneously taken and increasing order values through up-selling.
Payment Kiosk and Bill Payment Kiosk Solutions:
Payment kiosks provide a fast, secure, private and easy to use solution to make bill payments, whilst reducing queues, costs and staffing levels.
Interactive Medical Kiosks:
Using Touch4's specialist medical touch screen kiosks staff can quickly check medical supply inventory or the status of a patient, whilst patients have a private and convenient way to book in or out of units.
Hospitality Kiosks:
Interactive hospitality kiosks welcome guests in hotels, exhibitions and other hospitality environments with an engaging display of your services available and the opportunity to book the services required or request further information.
Wayfinding Kiosks:
Wayfinding kiosks allow visitors to obtain directions (and print) for where they are going or navigate through complicated and unfamiliar surroundings.
Loyalty Schemes:
Touch screen kiosks encourage interaction with your audience and obtain vital marketing and customer service data in the process.
Tourist Information Kiosks:
Reduce labour costs by providing interactive tourist information from places of interest to maps and local restaurants. Information can be created centrally and deployed across multiple tourist information kiosks in a wide area.
We cater for for any self service kiosk requirement, so please contact us on 01977 669955, email us at

or fill in the form below now to discuss your self service kiosk needs.