Touch screen project examples
Touch4 has delivered touch screen kiosks and integrated systems for organisations of all size, spanning a broad range of industries. Here are just some examples of the projects we have delivered and the clients we work with.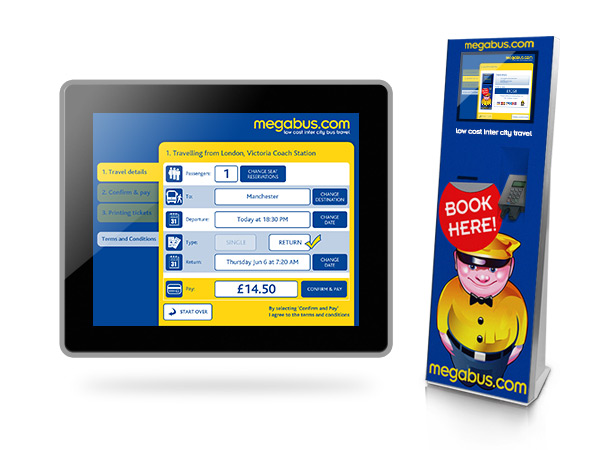 Megabus/Stagecoach transportation ticketing
Project overview
In 2010 Stagecoach approached Touch4 to provide a self-service ticket kiosk solution to be installed into the world-famous Victoria Coach Station in London. The ticketing solution needed to integrate with Stagecoach's existing travel system to check for the availability of bus seats, and then to update the system on what tickets were sold.
Our solution
The full payment kiosks themselves used a 19" touch screen and included card payment devices (chip & pin pads) and receipt printers for producing customer tickets and card receipts. Following the huge success of the initial scheme, Touch4 has also now installed transport ticketing solutions for megabus/Stagecoach at the Shudehill Interchange in Manchester.
---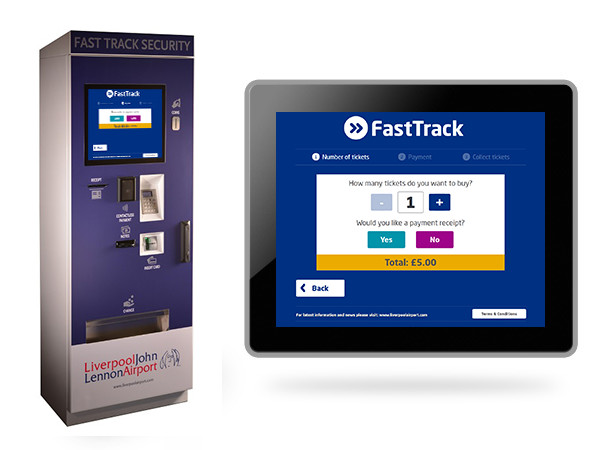 Manchester Airport fast track security
Project overview
To improve the flow of customers through the busy international Manchester Airport, the Manchester Airport Group (MAG) required a reliable and user-friendly ticketing kiosk for selling priority lane tickets.
Our solution
The fully-integrated ticketing kiosks provided for MAG provide customers with the option to bypass the security queue for a small fee. Multiple tickets can be purchased simultaneously using cash, coin or Chip & Pin payment. The kiosks have proven so popular with British, and international, travellers alike that we are currently working on a similar system for Larnaca Airport in Cyprus.
---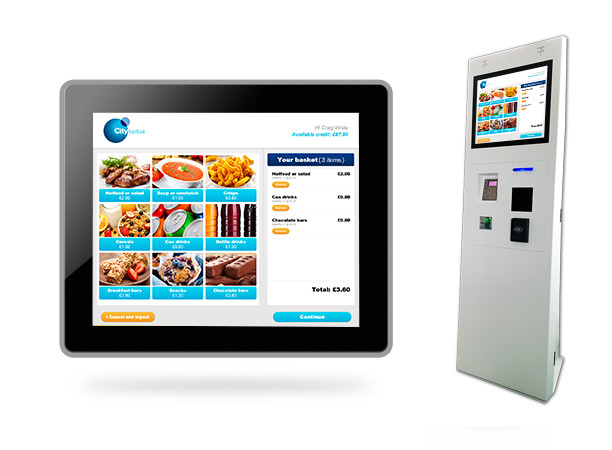 Manchester City Cafeteria Self Service
Project overview
MCFC introduced a cafeteria self-service solution for both staff and visitors to use. The kiosk had to be stylish, fully functional with card and contactless payment and the software, customer friendly and easy to use.
Our solution
T4 provided a cafeteria self service kiosk that allowed staff and customers to to select food and drinks and pay using either a credit/debit card or staff card.
---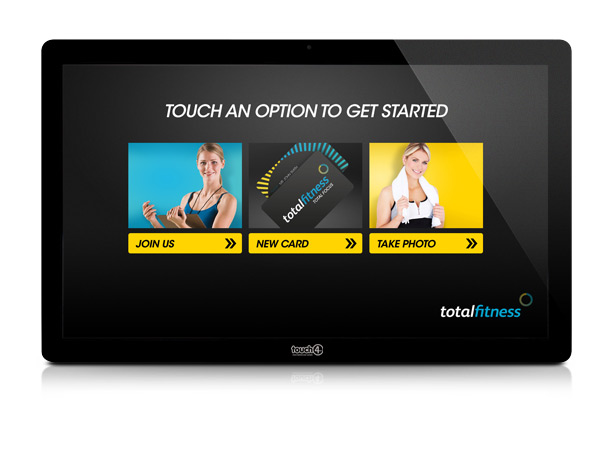 Total Fitness gym membership application
Project overview
As one of the biggest fitness club operators in the British market, Total Fitness required nothing less than the utmost standards of design and robustness for their new membership joining system.
Our solution
The system Touch4 developed for Total Fitness allows membership advisors to join new members and re-join old ones from any spot in the gym using nothing but a hand-held tablet. The integrated system not only lets staff take all the member's details and activate their membership on the spot but it also enables them to issue a membership card there and then — freeing up reception to engage in revenue-generating or operational activities.
---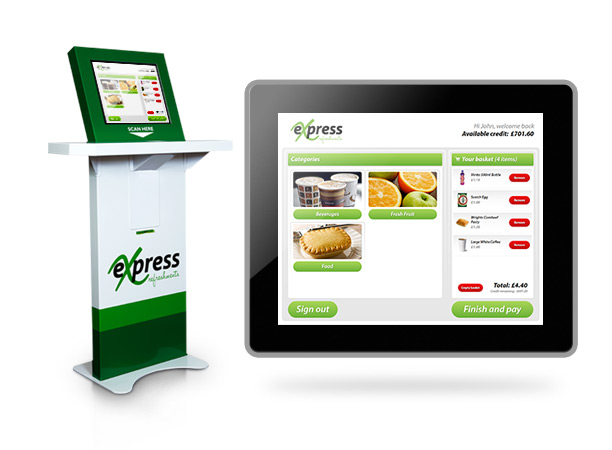 Coinadrink self service
Project overview
Coinadrink — the UK's number 1 service for coffee and vending machines — approached Touch4 to develop a solution that would link into their existing back office and allow a self-service touch screen kiosk point to handle customer transactions and allow them to pay for foods using a pre-credited payment card.
Our solution
We successfully installed the solution for Coinadrink in 2013, allowing them to expand their business from having stand-alone vending machines selling snacks into offering their customers a mini supermarket-type experience with a wider range of food & drink items. This has also enabled Coinadrink to offer organisations a commercially viable replacement for a staff operated canteen.
---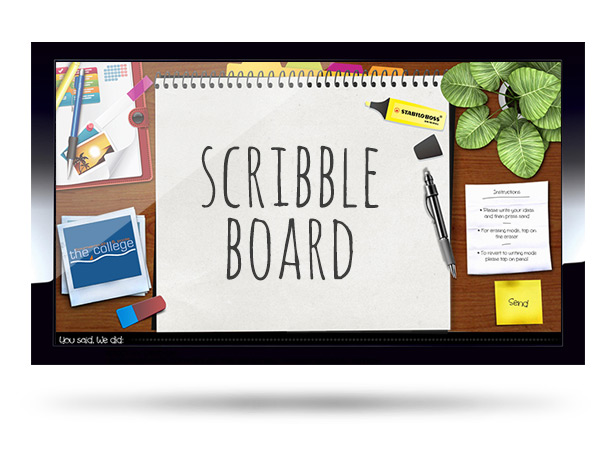 Bournemouth College scribble board
Project overview
To improve the communication between students and the college, Bournemouth College approached Touch4 with a view to developing a system on which students could leave messages for the college — who could also do likewise.
Our solution
Touch4 developed an innovative solution featuring a notebook-style noticeboard on which students leave messages and feedback for the college by drawing and writing on the screen. The college also communicates with the students by displaying status updates on previous student suggestions on any of the three 42" screens around campus.
---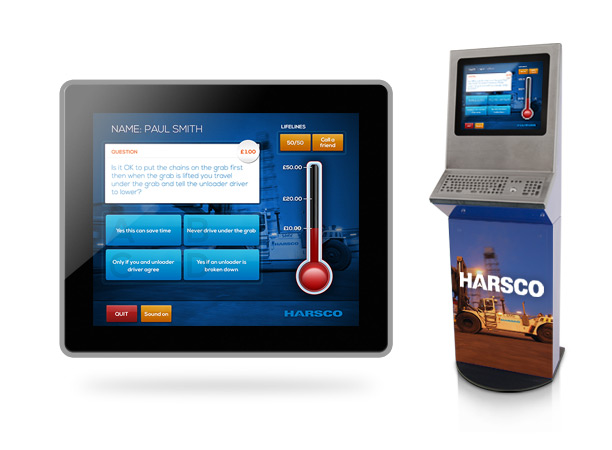 Harsco health and safety
Project overview
Harsco originally approached Touch4 to come up with a health and safety solution after a serious accident at the Port Talbot Steelworks involving a Harsco employee. The incident made the management question the whole approach to health and safety training on the site, and indeed at other sites run by the manufacturing giant.
Our solution
To make it fun and engaging, the Safety Burst quiz was designed as a "who wants to be a millionaire-style" quiz in which employees answer questions about the on-site health and safety procedures. The solution allowed Harsco to monitor which members of staff were up-to-date with the health and safety procedures — and which employees required further training. The hugely successful system won Harsco an international health and safety award and led to the rolling out of the system across other international sites.
---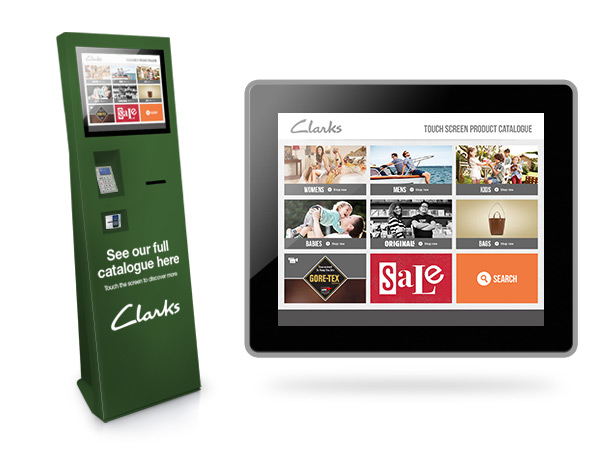 Clarks Shoes retail kiosks
Project overview
Boasting over 1,400 stores worldwide, and counting, Clarks Shoes remains the number 1 footwear retailer in the UK. In 2013 Clarks approached Touch4 requesting a solution to a common problem – keeping young children occupied whilst their parents browsed the store.
Our solution
Touch4 designed and produced the Kids Panel solution for Clarks, installing it as a trial in March 2013. The 50" touch screen kiosk included a number of simple games and activities aimed at children up to the age of 10. As a result of the rapid success of the trial, Touch4 has gone on to produce a shopping kiosk system for the retail giant.
---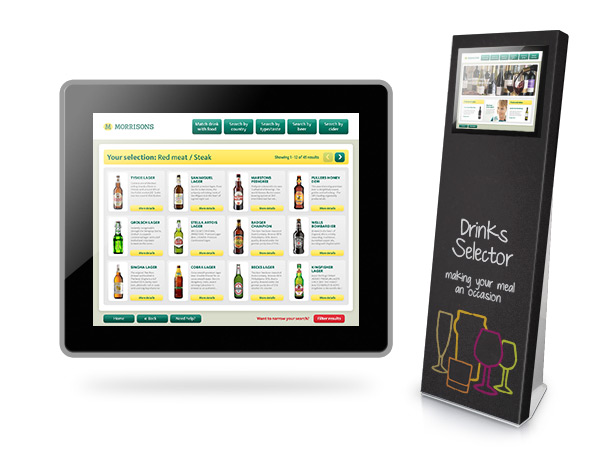 Morrisons drink selector
Project overview
Morrisons came to Touch4 with a very specific requirement for a drinks selector kiosk system which would help customers choose the right drink for any occasion, and suggest appropriate foods to match it with.
Our solution
The touchscreen drinks selector kiosks which we provided let shoppers search by country of origin, food match or taste profile. The drinks selector kiosk was found not only to be great for increasing sales in-store but also for improving customer knowledge on the Morrisons drinks range — and which of Morrisons foods best complement them.
---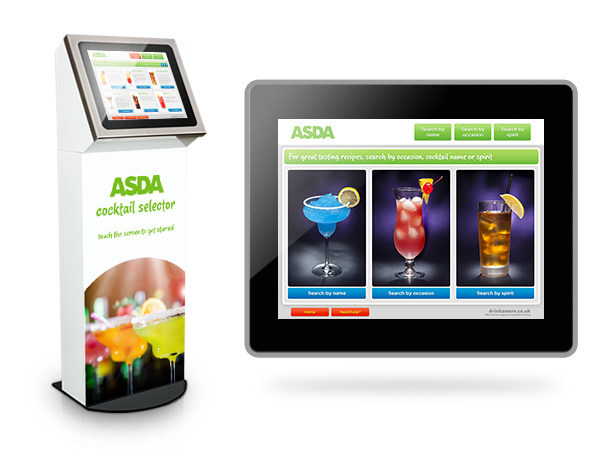 ASDA cocktail selector
Project overview
As one of the world's true retail giants ASDA required a cocktail kiosk with the utmost standards of build, design and ease-of-use for its customers.
Our solution
The ASDA cocktail solution Touch4 provided let customers look up different types of cocktail, get in-depth details on how to make them, and print off a shopping list of ingredients which they need. The kiosk not only increased add-on sales but it also provided an entertaining point of interest for customers.
---
If you have particular requirements you wish to discuss, then please get in touch by completing the form below and a member of our sales team will get in touch with you.