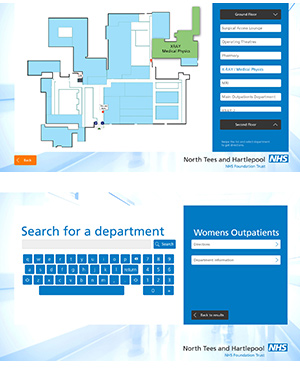 Touch4 Interactive Kiosks for Wayfinding
Wayfinding is very important in many buildings where visitors arrive at a building and simply don't know which way to turn.
It is also very bespoke and whilst we have a core understanding of how it is put together and modules for output, virtually every building shape is unique ... and there is no magic cure for that.
We take your plans, we ask you what you want people to find and then we break the plans down into objects, routes and hotspots. After this you decide how you wish the visitor to search and receive information and we do the rest.
Wayfinding Solutions from Touch4
We can offer modules such as:
Route finder.
SMS or Bluetooth results (depends on signage and device).
Room finder (room your appointment is in).
You send out barcode of meeting, swipe at screen and get directions to specific room.
Languages.
A4 printers in the kiosks with maps (printed with where you have to go).
The depth of your system will usually be guided by your budget but we will advise you on the level that you will need to go. If you have a complex building(s) with many floors and buildings then the cost of surveying when the plans are complete, pulling all the results together from the hotspots and then building the complex routes can confuse the visitor so the correct outputs are important.
As our advice today, please call us on 01977 669955 and get wayfinding added to your system or let it play the pivotal role on your touch screen hardware.