Touch Screens Software and Kiosk Solutions
Touch4 has been building software and touch screen interfaces for nearly a decade and it shows through the finished products we have created.
We have 3 ways of working with you:
1. Off Shelf Solutions / Knowledge - if you are looking for products that we've built, worked on before or have knowledge of then use the form below or call us on 01977 669955... here are some examples: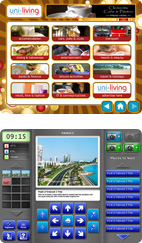 Web kiosks software
Ticketing and payment systems to add to your project
Customer feedback / data capture system
Digital signage - full suite including hardware
Wayfinding kiosks - we have a lot of experience but remember every building is unique!
Accommodation and events search for tourism
Product Search for retailers
Competitions for exhibitions and data capture
If you wish to know more then contact us today on 01977 669955 or full in the form below.
2. Bespoke Solutions - click this link to find out more and especially if you are you are looking for an end to end solution or you have pieces of the puzzle. More bespoke solutions.
3. For Developers, Designers and Agencies - Our integration tools can be provided in such a way as to offer APi level access to the peripherals on the kiosks and any web services you wish to connect to. More touch screen software for developers.
Know that you are looking for? Either fill in the form below or call us now 01977 669955.